With Halloween only a week away, Chelsea and I decided to kick off our blogging adventure together with a cocktail post! Simple ingredient lists, quick and easy steps, delicious results! Party hosts and guests alike will enjoy these festive drinks!
Jullie Anne:
Drinks are usually at the center whenever
we
get together. Aren't they, Chels? Plus, I'm a complete sucker for themed beverages...
Chelsea:
Agreed! The best part about these recipes is that they can be enjoyed year round…especially by us ;)
The star ingredient for our first cocktail is wine! We recommend using a smooth, fruity pinot noir. For having such a rich flavor, this wine has a lighter body.
Jullie Anne:
Great for guests that might be on the fence about red wine! How did you like it, partner?
Chelsea:
As one of those on-the-fencers, I wasn't so sure about this recipe. Normally, I find red wine to be too heavy, but this Pinot could have me on the road to conversion. It was light and sweet, the prefect base for our punch.
To complement the apple cider in this drink, as well as the flavors of the wine, we wanted to add another fruity element. While shopping for ingredients, this black cherry juice caught our attention!
Finally, the steps are as easy as one-tw-...wait...there's really only one step...POUR! Add a whole bottle of wine, 2 cups apple cider, and 1 cup juice to a large pitcher.
Jullie Anne:
So glad I have someone to help me with action shots now...great pour, Chels. *golf clap*
Chelsea:
I was so nervous! I wanted to get my very first "slow pour" just right!
This recipe will fill a 1.5 liter carafe easily, but feel free to multiply measurements in order to serve larger crowds! Also, grabbing a little inspiration from sangria, we decided to stuff some red and green apple slices in there!
Jullie Anne:
And, yes, that is a chopstick...
Chelsea:
I mean…how else were we going to cram all that fruit into the carafe?
Chill the punch in the refrigerator at least 1 hour before your guests arrive. This is definitely best when served chilled!
Jullie Anne:
And you know the other reason we call this
poison
apple punch? It tastes so good, you'll gladly have...at least...12 glasses. Dangerously delicious. ;)
Cocktail #2 literally has only two ingredients. A Black Velvet is equal parts Guinness Extra Stout and champagne!
Jullie Anne:
Celebrations must have bubbles!!!
Chelsea:
And this little beauty has no shortage of bubbles!
Jullie Anne:
But be careful when pouring...bubbles can be sneaky.
Chelsea:
Guinness is notoriously foamy, which means that it'll take some patience while making these.
Simply fill a champagne flute halfway with Guinness, then top off with the champagne.
We actually bend the rules a little bit and used prosecco, an Italian sparkling wine. *gasp* We know, we know, Frenchie purists. It's not the same. But hey, adventure is in our blog name. ;) Feel free to play around with your favorite sparkling wine! We do recommend using a dry bubbly, though, which is sweeter than brut. It balances the bitter, rich Guinness nicely.
Jullie Anne:
I went a little heavy-handed with the Guinness in one of the glasses. I actually liked the Guinness-y one better!
Chelsea:
You know, I love me some Guinness, but this is a great alternative for people who may not enjoy the taste of a traditional extra stout. The prosecco cuts the thickness of the beer and adds a little bit of sweetness to boot.
Poison Apple Punch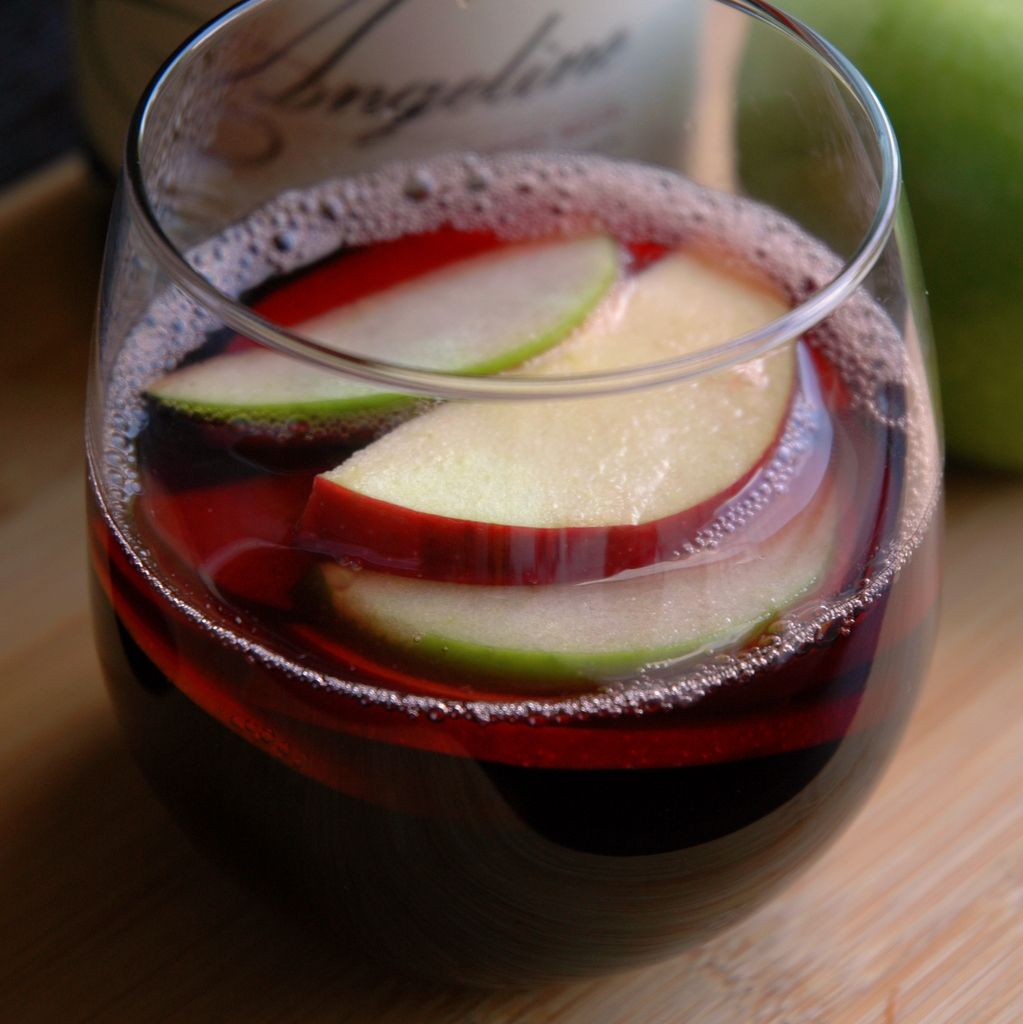 Ingredients:
3 parts Pinot Noir
2 parts Apple Cider
1 part Black Cherry Juice
Apple Slices, for garnish (optional)
Directions:
Pour ingredients into a large pitcher or carafe. Stir to combine. Add apple slices. Chill in refrigerator until ready to
serve.
Black Velvet
Ingredients:
Guinness Extra Stout, chilled
Champagne, chilled
Directions:
Fill a champagne flute halfway with Guinness. Top off with champagne.